Reading Time:
6
minutes
Hello everybody!
Good night!
In this post, I will comment on some SQL Server extended procedures that are very useful. Until this post, I didn't find any official Microsoft documentation about it so I decided to comment on it, besides demonstrating some examples.
An extended procedure (XP) is a link to a dynamic library (DLL) programmed using the SQL Server Open Data Services API and is used to extend SQL Server functionality. You can use either of the various procedures that come with SQL Server or create your own extended procedures using the C or C ++ programming languages.
Currently, there is not much incentive to use these procedures as they have been deprecated and should be removed in some future version of SQL Server. The most viable alternative to replacing XP Procedures is to use procedures SQL CLR.
However, I could not miss the opportunity to comment on these SP's, which have always helped me on several occasions and I still see many routines using them.
To view the list of extended procedures present in your installation, simply execute the command below: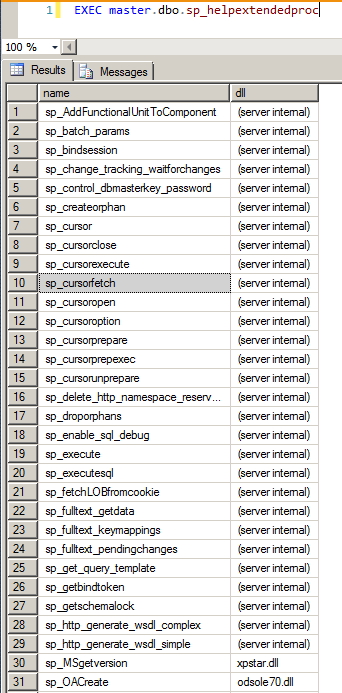 sp_MSgetversion
View information
xp_dirtree
View information
xp_subdirs
View information
xp_enum_oledb_providers
View information
xp_enumerrorlogs
View information
xp_readerrorlog
View information
xp_logevent
View information
xp_enumgroups
View information
xp_fileexist
View information
xp_create_subdir
View information
xp_delete_file
View information
xp_fixeddrives
View information
xp_availablemedia
View information
xp_getnetname
View information
xp_regdeletekey
View information
xp_regdeletevalue
View information
xp_regread
View information
xp_regwrite
View information
xp_cmdshell
View information
sql server clr xp extended procedures native dll
sql server clr xp extended procedures native dll