Reading Time:
3
minutes
Speak guys!
In this article, I would like to comment on some very interesting information that the Vithor Silva shared in a Whatsapp group in which I participate (he gave me the "rights" of this post .. kkkkkkk) and that many people (of which I include myself) are not / had knowledge that is the use of SQL Server Reporting Services in corporate environments free of charge, using SQL Server Express with the Advanced Services extension.
As I had commented in the post SQL Server Express and Developer - How far can we use free versions of SQL Server?, the Express version is made up of the fastest, most robust and secure SQL Server database on the market that you can have in your business WITHOUT PAYING ANYTHING (with some limitations, which I describe in more detail in the article). In many scenarios, even with limitations, it is perfectly compatible with the demands of micro and small businesses, which can rely on a professional, industry-leading database at zero cost.
Speaking of Reporting Services, if you don't know, the Reporting Services is a professional tool for creating reports, KPIs and dashboards from Microsoft, which has been part of the SQL Server package since version 2008, and allows the availability of information in an easy, practical and fast way, allowing professionals to develop reports using only knowledge of SQL using the SQL Server Report Builderthus eliminating the need to program in C #, Java, VB or another language to make reports available, which would make this task much more arduous, time consuming and dependent on the Development team.
Charts and reports are available through a web portal (or Sharepoint) on your company's intranet (can be published to the internet as well, allowing external access) and viewed by users through a web browser.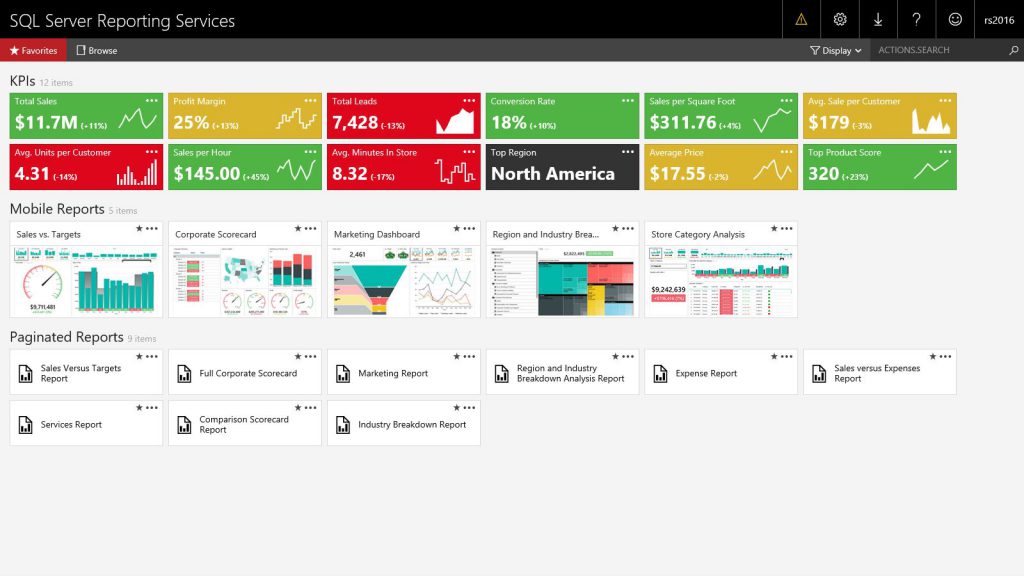 SQL Server Reporting Services Reporting Examples
This slideshow requires JavaScript.
As I commented in the post SQL Server Express and Developer - How far can we use free versions of SQL Server?, the Developer version is free since SQL Server 2014 and has all the features of the Enterprise version (save a few exceptions), although it cannot be used in companies, only in study, test and development environments (provided they do not contain real data from production).
Meanwhile, the Express version, which is also free, can be used in production environments, but has a number of technical limitations, such as the absence of Reporting Services, for example. However, this particular limitation can be circumvented by downloading the edition Express with Advanced Services, available since the 2008 version of SQL Server and including some features and functionality in the Express version, such as Data Tools and Reporting Services.
Alternative link to download SQL Server Express with Advanced Services


What does SQL Server Express Advanced Services have more than the Express version?
To identify the differences between the Express version and the Express with Advanced Services version, I will use the official Microsoft documentation, where you can identify the following differences:
Reporting Services Specific Differences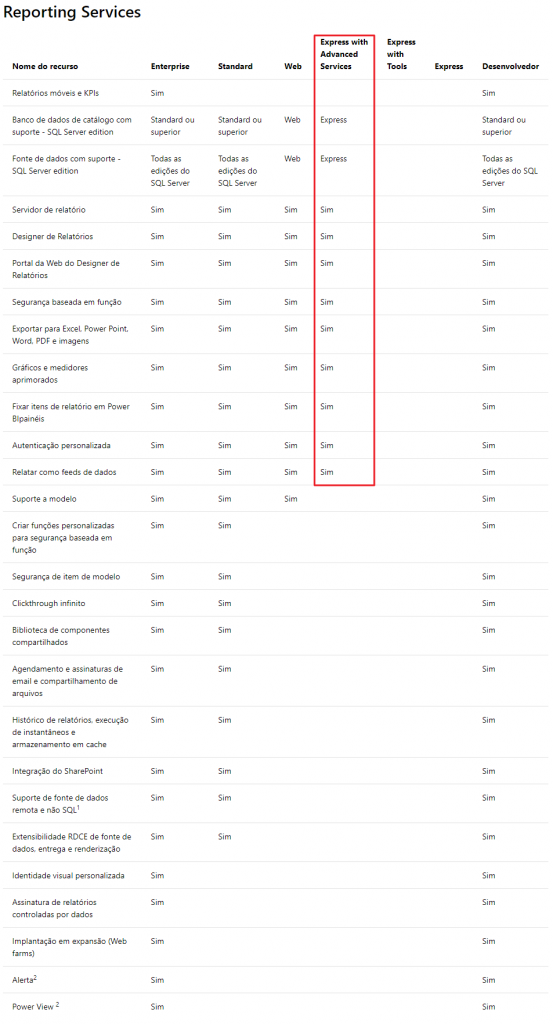 That is, with some limitations, you can use Reporting Services in your company for free and start creating and making charts, dashboards, and reports available to employees. Although there are some limitations and features that you will not be able to use in this free version, for small and small businesses that may not or will not want to invest in a SQL Server Stantard / Enterprise license initially, this may be a solution for modernizing your business reports. company at a ZERO cost.
Well guys, I hope you enjoyed this tip from our friend Vithor Silva, who just watched the birth of his first child and how he runs out of time, "gave me the image rights" for this post. kkkkkkk
A big hug and until next time!