Reading Time:
3
minutes
Hello people,
Good Morning!
In this post today, I will share with you some more promo codes for taking the free SQL Server 2016 MCSA BETA certification exams, specifically the 70-764 Administering SQL Database Infrastructure and 70-767 Implementing the SQL Data Warehouse tests.
I had already made a post about it, with other 3 promo codes for free beta exams, which was the post Free SQL Server 2016 MCSA Certification Tests (Beta)where I went APPROVED in the 70-762: Developing SQL Databases and 70-765: Developing SQL Data Models beta exams, thus earning the title of Microsoft Certified Professional (MCP) for SQL 2016. (Yes, if you pass a BETA test, the result is valid as well as an official test, where you pay 100 / 150 dollars)
As I said earlier, when Microsoft is preparing to release certification exams, it makes some code available to IT professionals around the world, so they can take that test and give their feedback on the questions.
Since the tests are still in the testing phase (BETA), you should be aware of the possibility of errors in the questions. Also, the exams are usually only available in English and instead of some randomly chosen questions, the exam contains all the questions, so the beta exam is usually larger than the final exam.
Another difference from the final version of the tests to the beta version is that in the final version, the result is generated as soon as you finish the test, while in the beta tests, the result is only released weeks later (when the final version of the test is available). ).
About the MCSA Title
The Microsoft Certified Solutions Associate (MCSA) title is awarded to IT professionals who pass the 2 proof of one of the 3 fronts of SQL Server:
MCSA: SQL 2016 Database Development
Certification focused on Developers and which is obtained by passing the two tests below:
MCSA: SQL 2016 Database Administration
Certification aimed at DBA's and obtained through the approval of the two tests below:
MCSA: SQL 2016 Business Intelligence Development
Certification for BI Analysts and obtained by passing the two tests below:
For those who are already SQL Server 2012 / 2014 MCSA, you can take the 70-762 beta test to replace the first test in each area and then take only the second exam to upgrade your certification to SQL Server 2016: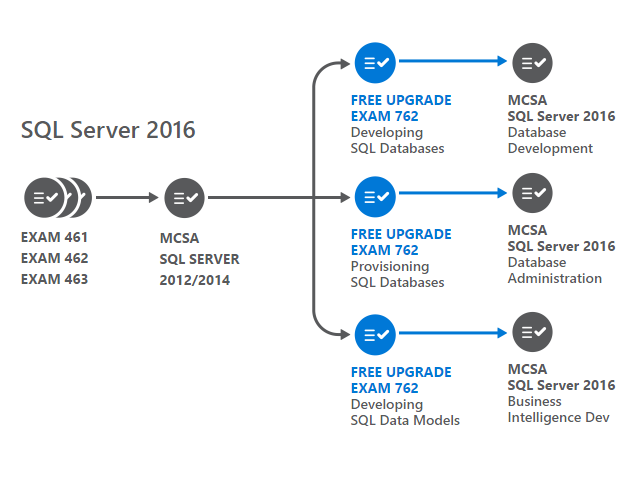 Once you pass the 2 exams for an area, you earn the MCSA title for that area. You can take tests in one or all of the 3 areas if you wish.
Run! The vacancies are very limited and the test can only be done until 31 / 01 / 2017!
SQL Server 2016 exam exam certification certifications mcsa beta free coupon code free for free free certification exam 70-762 70-765 70-768 70-761 70-764 70-765 70-767
SQL Server 2016 exam exam certification certifications mcsa beta free coupon code free for free free certification exam 70-762 70-765 70-768 70-761 70-764 70-765 70-767