Reading Time:
8
minutes
Speak guys!
In the last post from 2018, I would like to thank you all very much, who comment, like, rate my articles, visit and share on their social networks. It is a great privilege to have a space to share the things I study and test with so many people. Reading your comments makes me very excited to continue this work, which is tiring but very worth it !! I will also extend my thanks to our creator and savior, Jesus Christ. All this is only possible thanks to Him.
I will take this space to share the achievements and events that marked my life in this fantastic year.
Global Azure Bootcamp - Vitória / ES
At 2018, I had the opportunity to speak for the first time at Global Azure Bootcamp, which took place in Vitória / ES, on 21 / 04. The event was very well organized by MVP Rafael Santos and my talk was on "Database as a Service", focusing on non-Microsoft DBMSs that are supported by Azure as PaaS (or DBaaS), which are MySQL and PostgreSQL, in addition to several other DBMSs that are supported as machines virtual (VM's), with templates available for creating the VM, with OS and the bank already installed, which are Oracle Database, MongoDB, Cassandra, MariaDB, Teradata and many others.
Congratulations 2018-2019 Microsoft MVP!
And that was the title of the email that came to me on 01 / 07, stating that I had been recognized by Microsoft as a Most Valuable Professional (MVP). It is a great pleasure and honor to receive such a cool and important award, and with that, I join a team of excellent data professionals around the world who, like me, have a real passion for sharing knowledge. It really plays a movie in our head, remembering remarkable moments, victories and defeats throughout our professional journey. Surely my motivation is 100% renewed and I intend to do even more for the technical community.
I believe we should share the knowledge we acquire in our daily lives, because it is thanks to the community, blogs, forums and face-to-face lectures that we find solutions for our daily lives and can come up with new ideas to "think outside the box. the box ", learn about new technologies and evolve professionally.
1st SQL Day - Espírito Santo
On 04 / 08, I was one of the organizers of the 1st SQL Day - Espírito Santo, an event that brought together more than 10 speakers from various states of Brazil and more than 250 people present (and almost 500 registered). This was the largest data event in ES history and a milestone for this community so lacking in data professionals and events.
In addition to this major event, we have organized more 4 in-person events this year to bring knowledge, networking and sharing of experiences with the Espírito Santo data community:
- How was the 10 SQL Server ES Meeting - From Zero to Everything with Tableau and SQL Server
- How was the 9 SQL Server ES (Power BI x Reporting Services and Performance Tuning) meeting?
- How was the 8th PASS Local Group SQL Server ES (Azure CosmosDB) meeting?
- How was the 7th PASS Local Group SQL Server ES meeting?
Starting the "Youtuber career"
The year of 2018 was the year I started creating content in video format too, using the Youtube platform, where I have the channel Dirceu Resende - SQL Server and BI Consultant, where I release recorded videos about Power BI, SQL Server and BI (SSAS, SSIS, SSRS), as well as lives and webcasts on these subjects.
Want to know a little of my material published there?
- FREE Database Check-Up + Security Analysis: Do You Need It?
- SQL Server - How to identify data conversion errors using TRY_CAST, TRY_CONVERT
- SQL Server 2019 - Knowing the Changes in Row Estimation in Table Variables
- SQL Server - How to use Management Studio debugging
- SQL Server Reporting Services (SSRS) - How to log the report view
- SQL Server - Introduction to SQLCLR
Webcasts and Lives - Live events via the Internet
Since I started recording videos for Youtube, why not start participating in live events, addressing a specific topic, interacting with viewers via chat and sharing knowledge? In 2018 this has come true! I organized some really cool lives and was invited to some great ones! I really enjoyed this experience and hope to continue to do this on 2019.
What live events did I participate on the internet on 2018?
- Info IT Seminar - Power BI vs Reporting Services
- What's New in SQL Server 2019 ft Sulamita Dantas
- Webinar - Microsoft certifications in the data area (Data Platform)
- .NET Channel - SQL Server 2019 News
- DBA Brasil - Data Tuesday # 38 - The Modern and Automated DBA
Microsoft Events
2018 also marked the year I left Espírito Santo to network and share knowledge in Sao Paulo. On October 16, I lectured at 1º SQL Server Meetup at Microsoft, with the theme "The Modern and Automated DBA", where I had the opportunity to comment on my vision of the DBA a few years ago, seen almost as an enemy of the developers and BI team, and the role of the DBA of the current times and the future, where he is a partner in the development / bi areas, working in the DevOps culture, automating repetitive tasks and acting more in line with the needs of the business. I also demonstrated some tools and resources that enable the DBA to deliver more results with much less time and effort, such as monitoring tools (Redgate SQL Monitor, ApexSQL Monitor and SQL Performance Monitor), HealthCheck tools, such as Brent's sp_Blitz Ozar and also several tools, such as DBA Tools.
On 11 and 12 December, I returned to São Paulo to participate in the Microsoft Ignite 2018, do a lot of networking with other MVP's and incredible professionals that I met at the event and also managed to do some demonstrations about the Power BI Report Server at Demo Station 8, which was reserved by Fabrício Lima and who kindly gave me that space for one morning.
On the 13th and 14th, I participated in the MVP Get Together 2018 event, an annual meeting of MVP's in Brazil, where we participated in several lectures (given by MVP's and Microsoft employees), we talked a lot and I had the opportunity to speak about "Power BI Service x Power BI Report Server "on the last day of the event, alongside the large Claudio Bonel.
Certification Tests and more MCSA
At 2018, I studied extensively on data and technology, and this allowed me to pass 5 Microsoft certification exams, which gave me more 3 MCSA titles and the upgrade of my MCSE to 2018. My goal for 2019 is not to slow down, keep studying hard and try to pass some more tests .. lol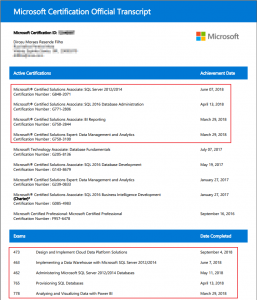 Posts .. Many posts
Over the course of 2018 (and already counting this post), I wrote 88 articles on this blog, which gives an average of 1 post every 4,15 days.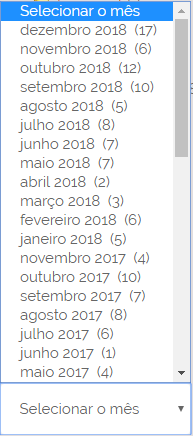 And speaking of numbers .. What a year!
Power BI RoadShow #5 - Vila Velha / ES
On 17/11, I had a golden opportunity to speak about "Azure and Power BI", together with Fabrício Lima at Power BI RoadShow #5 - Vila Velha / ESat the invitation of Fernando Garcia and the Ruy lacerdacreators of Spreadsheets, Latin America's largest Power BI channel on Youtube and soon the largest in the world.
It was a very well organized event, which featured some of the top professionals in the data area, which are the Sulamite Dantas and the Fabrício Lima and we still had the illustrious presence of the myth of Microsoft Fábio Hara. Coincidence or not, in this event we gathered all 5 MVP's of Data Platform of Espirito Santo speaking to the capixabas. Really, something amazing and shows that Espírito Santo is getting in the way of the big data events in Brazil !!
MSSQL Server Portal
On 01 / 08, the Data Platform community officially launched the MSSQLServer Portal, a platform I developed to aggregate the articles, videos and content of all content creators in the data area of ​​Brazil.
This new portal acts as an aggregator of technical articles from various data specialists, separated by technology (SQL Server, Power BI, Reporting Services, Azure, Analysis Services, etc.).
In addition, this new portal is classifying posts between technical articles and post posts and event information. This will make it much easier to read technical articles and also to learn about upcoming events.
Another interesting feature of this new portal is the dissemination of local groups, where you can find a group near you and start participating in face-to-face events and interact with the technical community of your region and also has a Community Global Events Calendar.
You can also view the posts written and published by each of the authors of this new portal and subscribe to the portal newsletter, to receive an email whenever a new article or event is posted, so always be up to date with what's up. newest in technology and events held in person or online throughout Brazil.
Job change .. Twice!
2018 really was a year of many changes. On February 05, I was leaving Dacasa Financeira, a company that worked since 2013 and started a new challenge in the Commercial area of ​​EDP Brasil, to implement a BI platform with Power BI Report Server, Reporting Services and SQL Server. I met amazing people there and learned a lot from 2018. I was able to change people's view of data. Many laborious and manual tasks were eventually automated and modernized. Reports with a lot of information that users needed but couldn't take time to extract and work with were now available within a few clicks. My sector has become a reference for innovation and automation within the company.
Although I found it an incredible experience working there, I felt that I lacked the autonomy to create much more than I created, after all, it was not from IT and everything was limited to what IT could handle and wanted to release. Tools such as Analysis Services, which could have created a data revolution there, were not available to business, even if they had professionals who could use it.
Given this scenario, in October I was invited to join the team of Consultants of Fabrício Lima - Data Solutions to work with BI and SQL Server and despite being at EDP for only 8 months, in November, I accepted the invitation because I found it a great challenge for my career to start working as a Consultant, leave CLT and become PJ.
Anyway, 2018 was an AMAZING year!
It just makes me expect even more from 2019.
I wish you much success, peace and health!
A big hug and HAPPY NEW YEAR!