Reading Time:
9
minutes
Speak guys!
TODAY, 01/06/2022, Microsoft made available a new portal focused on foundation certifications, made exclusively for the community of students who want to earn a Microsoft foundation certification.
To access this new portal, click here.
Oh, don't forget that until June 21, 2022, the "Microsoft Build Cloud Skills Challenge | May 2022", which is giving away thousands of FREE vouchers for you to take a Microsoft certification exam.
Are you looking for a way to stand out when starting your career? Want to change jobs and switch to something new? Or master the basics as you progress through a challenging role? Explore the Microsoft Certified: Fundamentals website to learn how certification can help you achieve your goals.
Earning a foundation certification sets you apart as someone who is willing to learn and takes concrete steps to make your goals a reality.
Whether you're a technical professional, student, or business professional, a foundations certification is designed to help you accelerate your progress, boost your career, and keep up with evolving technology trends.
This can be the first step on your journey to role- or specialty-based certifications, but it's not a prerequisite for either.
Just like I had already done the article Microsoft Certifications - Portuguese Study Material for Your First Certification (MTA), I will give my view on the Fundamentals tests, the replacements for the old MTA tests.
Who is the target audience for the Foundations certification?
View answer
As I already commented here in the post, the Fundamentals tests are more theoretical than the Associate ones, charging more theory than real day-to-day scenarios and more generic, not delving too deeply into a specific technology. In general, the target audience of the Fundamentos certification are students who wish to enter the job market through an internship and seek a way to stand out, or even JR analysts who seek to demonstrate to their company that they are seeking to improve and study more.

Is it worth studying and getting the Fundamentals certification?
View answer
Sure
! Regardless of your career level, I believe a certification is always welcome. Just above, I mentioned the target audience for the Foundations certification.
If you are a student and now entering the job market, this is definitely the first certification exam you should look for, as it is more theoretical and the exam is not so complicated. This helps a lot and learn more about how the certification process works and what Microsoft evidence is like.
I've had some acquaintances who, in their first test, have already tried to take an Associate test without having much experience in the subject. These people didn't do very well on the test and got a certain fear of certification tests. For this reason, I always recommend that anyone who is going to start trying to get their certifications starts with Fundamentals.
If you already have a high degree of knowledge and experience and are now looking to specialize in certifications, I recommend getting Associate/Expert degrees and then, if you want to, pursue the Foundations certification. A foundation certification doesn't really add much to the resume of someone who already has another Associate certification, but I usually say that certification is addictive (and it really is! lol), so it's something to think about when you already have all the certifications you're aiming for.

Is the Foundation exam a prerequisite for the Associate exams?
View answer
The Foundations exam is Microsoft's first and easiest certification exam, suitable for people who are starting their career and are still getting to know the technology, so there is no prerequisite to take it. Anyone can take this test. With just 1 test, you already obtain the Fundamentals certification in the desired area of ​​expertise.
The fundamentals exam is NOT a requirement for the Associate exams, so you can take the Associate exams without taking the Fundamentals exam. But I recommend taking the foundation test so you can start testing yourself, getting to know the style of the questions, the style of the test, and feel more confident trying to take an Associate test, where the level of questions will be much higher.

How much does the Fundamentals test cost and how do I pay?
View answer
As you know, all Microsoft certification exams are billed in (US) dollars. The Foundation exam costs US$60, while an Associate exam costs US$100. Microsoft gives this small discount to encourage people to obtain this certification and also to lower the cost for a student a little, which is largely the target audience of the Fundamentals certification.
As the companies offering the exams are American (Certiport and PearsonVue), the exam can only be paid using an international credit card under Visa, MasterCard, American Express or JCB. If you don't have one, there are several companies that offer cards with no annual fee and fees, such as NuBank and Banco Inter. You can also opt for an international Prepaid credit card (no bank account required), such as the PagSeguro Prepaid Card. That is, no excuses to postpone your certification test .. lol
Please note that Verified students receive FREE Foundation exam vouchers.

Can I take the Fundamentals test in Portuguese?
View answer
Yes! Yes you can!
The vast majority of Microsoft certification exams have several languages ​​to choose from, and one of them is Portuguese (PT-BR). This helps a lot when the person who will take the exam does not have mastery of the original language of the test, which is English, because the texts of the tests are usually a little extensive and
The person may become confused.
However, beta tests, or even newly released official tests, usually don't have multi-language options right from the start. They take a few months to translate and this can prevent you, who do not know English, from taking these tests for a long time.
Also, I need to tell you that in some cases, the tests in Portuguese can even confuse you, since the technical terms are also translated..
Some examples:
- Stored Procedure
- View
- Trigger
- Job
- Log Shipping
However, I have to warn you that English is ESSENTIAL, not just to take certification exams, but throughout his IT career. The overwhelming majority of books and technical articles are usually in English, many technical terms are still in English, and most IT giants are in the US.
That said, it's hard to find a great IT professional who doesn't even know how to read English texts. If you don't have this ability yet, don't waste any more time! Start TODAY studying English for the sake of your career.

Where do I take the Fundamentals test?
View answer
If you are a student, verify that the school has been established as a testing center for Certiport or PearsonVue and has been registered to teach Fundamentals exams. If so, the teacher or supervisor can send the exam to you.
If you are not a student, Microsoft certification exams can be taken in 2 environments (described below). You will choose whether to take the test at home or at an official training center when scheduling the test, where the website itself shows you which training center is closest to you.
Official Training Center: One of the places to take a certification test is at an official training center. These Microsoft partner sites often offer official training and also provide a framework for the general public to take their certification exams.

The exams must be scheduled in advance (I explained in the previous question) and are done on an Internet-connected computer with cameras in the room and an on-site instructor. Your belongings, including bags, backpacks and cell phones, should be collected before the start of the test, and removed by you only at the end of the exam.

The whole structure is the responsibility of the company and in case of any problem they should help you solve it on time.

Your home: Another option for those who do not want to move to a training center, whether for convenience, lack of time or even living far from one, is to take the test in the comfort of your home.

Although this option seems very comfortable at first, I should warn you that it has a number of rules to make it an interesting and really practical option:
- A Microsoft employee will monitor you throughout the exam via a webcam or cell phone with the camera on.
- You will have to show the entire place in your home where you will take the exam, so that he can make sure that the place has nothing against the rules and policies of the exam, such as a camera or paper with notes and tips. remove objects from the place where you will take the test.
- No one from your home will be able to appear on camera images or speak to you during the race.
- If the internet connection goes down or there is a problem with your computer, try it for yourself, with no right to redo (only paying again)
I want to take the Fundamentals test. How I do?
View answer
To take Microsoft certification exams, the first step is to have a Microsoft account and email (
outlook.live.com
).
Once you have your Microsoft account, you should go to the exam page you want to take and schedule at the Microsoft partner who conducts the exams (Certiport or PearsonVue) what date and time you would like to take the exam. At the same site, you will choose the training center that is closest to you (or you can arrange to do it at home) and the payment method.
On the scheduled day, simply attend the indicated location with a photo document.
Below are pages of the Fundamentals exams to start the exam scheduling and scheduling process:
To mark the test, just scroll a little and click on that link marked in the certification you chose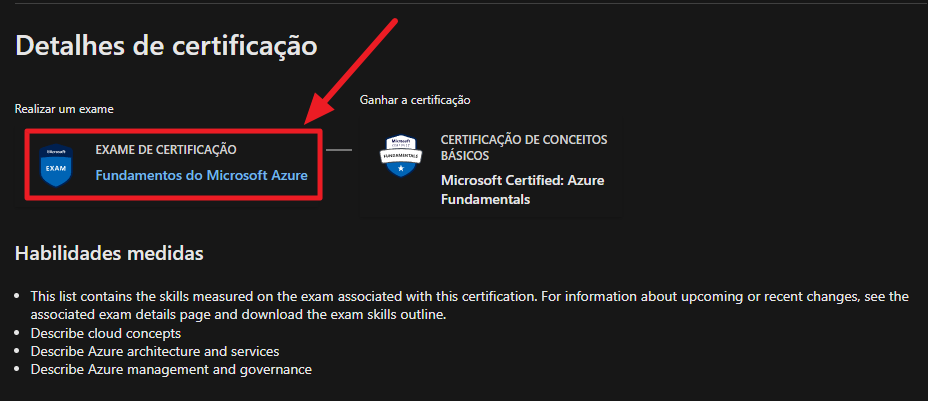 To study for the tests, just scroll the page a little further, and you will see the Learning Path, with all the content of the test you want to take. All this, FOR FREE!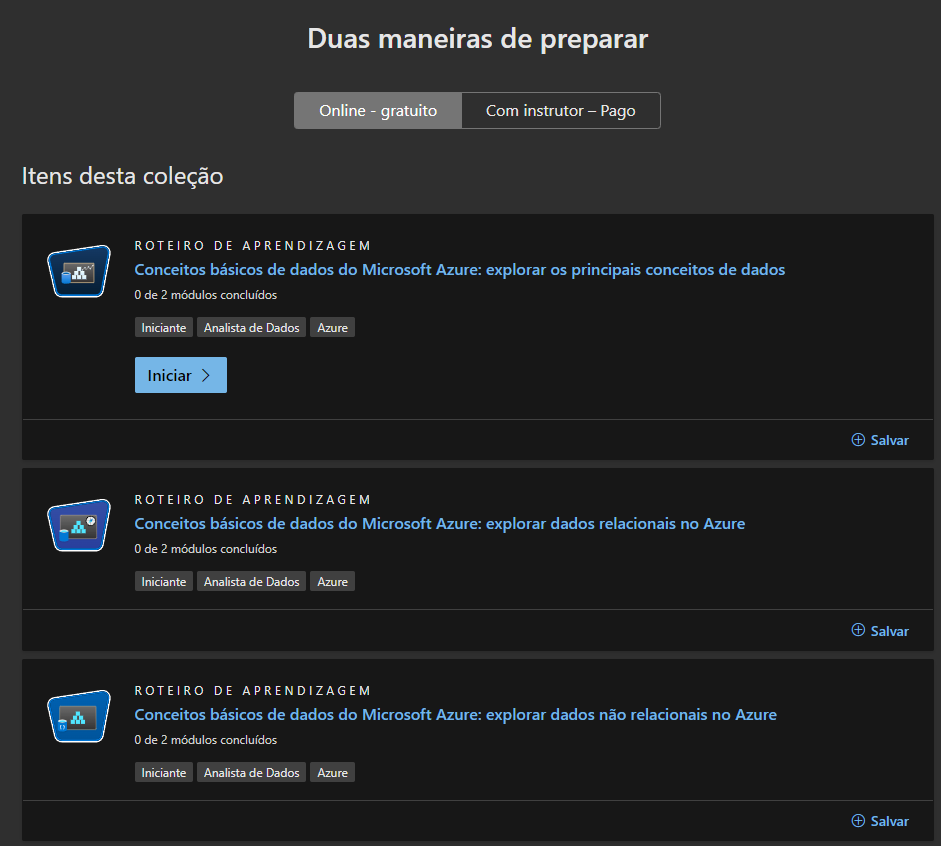 And that's it folks!
A big hug and even more!