Reading Time:
3
minutes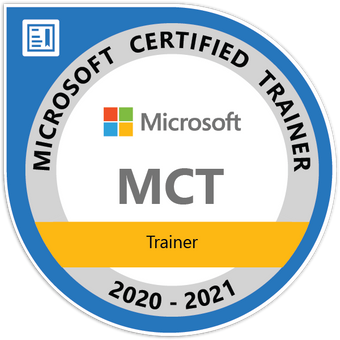 Personal Faala !!
I would like to use this post to bring news to anyone who is STILL unaware: From April 10, 2020 to September 30, 2020, Microsoft Certified Trainer enrollment and renewal, that cost 350 dollarsIs FOR FREE!! That's right, free of charge!
With that, Microsoft is democratizing access to the MCT program maintain all requirements, with the exception of only $ 350, which is very high for many people and with that, it is also increasing people's level of knowledge, since it is a great opportunity for you to use the discount at MCT to get new certifications, and thus, be able to give official training Microsoft. We need to train new instructors!
The MCT program is for educators around the world who actively offer training in Microsoft technologies. If you have a qualification or qualification certification and love to offer training on Microsoft technologies, this certification is for you!
The Microsoft Certified Trainer is an annual membership program. You must meet program requirements, complete an application online and pay an annual fee to renew your training certification for the next year.
Requirements to be a Microsoft Certified Trainer (MCT)
Have a current Microsoft Certification or an acceptable qualification for the MCT program.
(Click herei to see the list of valid certifications to become MCT)
Demonstrate instructional skills verified by one of the following:

Instructional skills certification:

CEGOS Group
CompTIA CTT +
Essential Educate Trainer (internal Microsoft certification)
Fourth Dimension Technologies, Inc.
Friesen Kaye and Associates
Global Knowledge Instructional Skills Certification
gopas
IAMCT Approved Technical Trainer (IAMCT ATT)
IPM (Institut für Personalberatung und Managemententwicklung)
Learning and Performance Institute Trainer Performance Monitoring and Assessment (TPMA)
Learning Tree Train the Trainer Program
Marcom Delhi
Microsoft Certified Trainer Instructional Skills Certification (MCT-ISC)
Netcom Learning Instructional Skills Certification
New Horizons Instructional Skills Certification
PrepMasters USA
Sinerji Egypt

OU

Provide the name and email of a reference person who confirms that you have at least one year of your experience teaching or training
Requirements to renew the Microsoft Certified Trainer (MCT)
Have a current Microsoft Certification or an acceptable qualification for the MCT program.
(Click here to see the list of valid certifications for renewal)
Meet the minimum instructional requirement to teach at least one class, as validated through Metrics that Matter (MTM) or any other search tool will be accepted.
Observation: Renewal requirements may change and to renew as an MCT and you must meet the renewal requirements for the MCT program on the anniversary date.
To create your Metrics that Matter (MTM) account, register your training classes and be able to renew your MCT, access this link here.
Benefits of being a Microsoft Certified Trainer (MCT)
Possibility to give official Microsoft training in training centers (and be paid for it, of course)
In-person Central MCT, where you will have centralized access to all your benefits
Early access to 100% discount vouchers in beta tests, exclusive for the first 300 MCT's that use the discount, whenever a new test is launched - Link here
50% discount on ALL Microsoft certification exams - No usage limit (Discount increased to 75% by January 31, 2021)
$ 100 per month of Azure credit - Link here
Power BI PRO license - Link here
Free access to paid tools like Camtasia and Redgate - Link here
Access to official study material (Training Kit) for all tests - Link here
Portal with job vacancies and exclusive training for MCT's - Link here
You can request FREE, stickers, an official MCT certificate and a very stylish card with your name and your certifications - Link here
Another certification on your Transcript and a badge to share on social networks
I want to be a Microsoft Certified Trainer (MCT)
If you want to become an MCT, even more with this promotion of being FREE, the process is very simple:
Read the Prerequisites above and see if you meet all of them
Sign up for the MCT program and fill in the data at: https://mcp.microsoft.com/Authenticate/MCT
Provide details of your instructional skills certification or indicate the contact of a person who can prove your experience in classes and training

If you have chosen the second option, you will have to wait for the indicated contact to approve the email that will arrive for him

After that, welcome to MCT! That simple.
Now you can start giving official Microsoft classes and training!
That's it folks!
I hope you enjoyed this tip, a big hug and see you next time!