Reading Time:
2
minutes
Speak guys!
The use of databases in the Microsoft cloud goes far beyond Azure SQL Database: We also have alternatives such as PostgreSQL, MySQL, MariaDB, Azure Managed Instance and also multimodel NoSQL solutions such as Cosmos DB.
In this live, you will learn the basics of database administration and avoid common mistakes made by professionals with no experience in this area.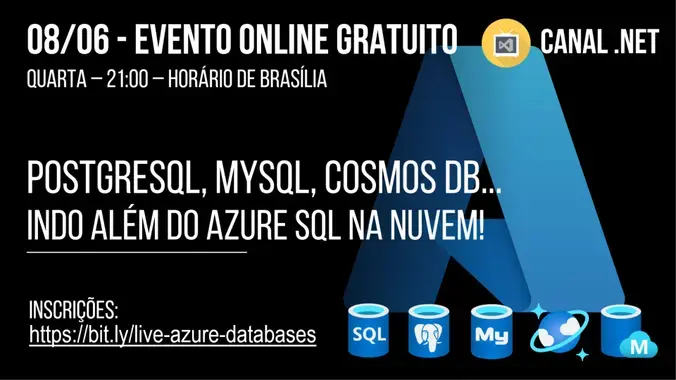 We will demonstrate the price differences between services, technical differences, how to hire, how to connect, administration tools, backup/restore, replication and much more! This is your chance to learn more about the other self-managed Azure DBMS that allow easy and professional database administration, even by professionals who are not DBAs.
Important:
If you liked this theme and want to specialize in database administration on Azure, I recommend you to acquire and take all the modules of my course
Administering Databases in Azure
and I'm sure you will have much more knowledge and security to manage PostgreSQL, MySQL, MariaDB, SQL Server on Virtual Machines, Managed Instance and Azure SQL Database databases.
Check out this FREE ONLINE and .NET event from Canal .NET for tips, tricks and also ask your questions about different options for the data area within Microsoft Azure!
Speakers already confirmed:
Dirceu Resende – Microsoft MVP
Rafael Mendonca – Microsoft MVP
Renato Groffe – Microsoft MVP, MTAC
When:
08/06/2022 at 21am
Event registration link:
https://www.meetup.com/dotnet-Sao-Paulo/events/286189744/
UPDATE: Stream link
Don't forget to follow along! Invite friends, friends and co-workers!