Reading Time:
2
minutes
Hello everybody!
Alright?
After making my debut as a speaker at SQL Server ES, the PASS Chapter of Vitória / ES, I will comment a little about how the event was, in which I also participated in the organization, with the Tiago Neves, Fabrício Lima and the Vithor Silva. If you didn't see the event post, check it out clicking this link.
Since our goal is to be always improving our events with each meeting, we started to look for sponsors to get a legal coffe break for the event participants and Vithor got the sponsorship of the event. AX4B, who offered to pay for the coffe, as well as donating us a backpack from Microsoft IRADA to raffle to the participants of the event. Vithor also got 2 OFFICIAL COURSES from Microsoft (free choice), provided by Mindworks. At the end of the presentation, the course coordinator, Prof. Marcelo Albuquerque made the 1 book giveaway for the first person to post on social media using event hashtags during the event. Giveaways of the highest level !!
As always, the structure of the Catholic University Center of Victoria it was amazing, serving us and accommodating us in an excellent way. The Coffe Break, organized by the chef Thiago Simor it was also sensational.
Despite the initial nervousness, I found the experience very cool and I hope people enjoyed the presentation. I hope I have been able to get some of what I planned to share and that this lecture has given another insight into Performance Tuning and Query Tuning in SQL Server.
After my talk, we took a short break and shortly thereafter, Vithor Silva demonstrated the concepts of traditional BI and Microsoft's Self-Service BI concepts, similarities, differences, and made an excellent presentation showing us what the BI universe looks like. from Microsoft, how the tools meet every need and showed us live how to import and create PowerBI reports.
Event Photo Gallery
Check out the photos of the event:

This slideshow requires JavaScript.
Presentation: Writing Quick Queries in SQL Server
Who wants to view or download the slides of my presentation, just access below:

I would like to thank everyone who was able to attend the event again. I hope it was profitable and a time investment, rather than a waste of time. Waking up early on Saturday after working / studying all week is really not easy. This only shows the interest in learning more and evolving professionally. Who wasn't, missed the coffe break, networking, lectures, giveaways .. kkkkkk
Already reserve these dates. The 3 SQL Server Meeting is coming ..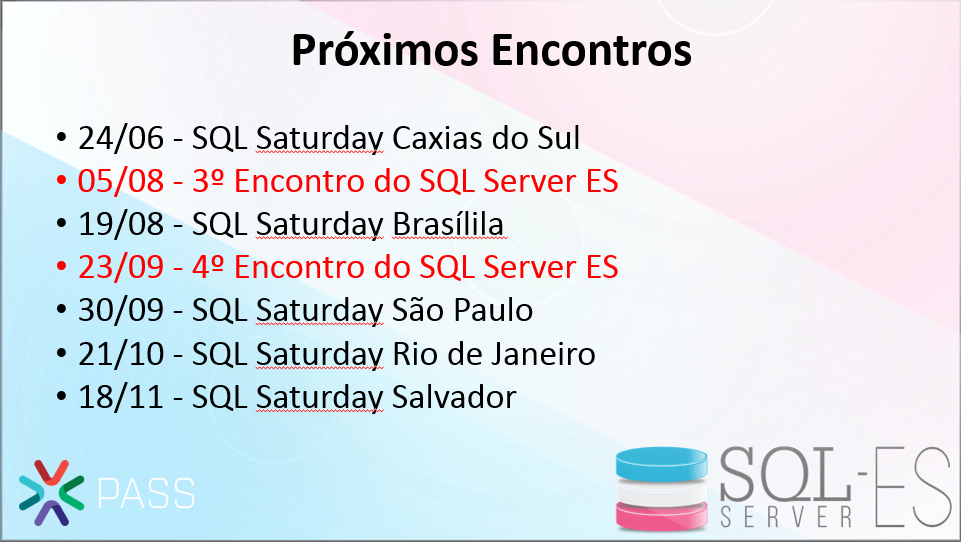 That's it, guys.
Soon I will be posting more news for you here.
A big hug and until the next post.