Reading Time:
2
minutes
Hello everybody!
In this post, I would like to share with you how was my experience in Microsoft Ignite The Tour (Sao Paulo) and the MVP Get Together 2018, held in the 2 days following Ignite at Microsoft, as I announced that I would attend in this post here.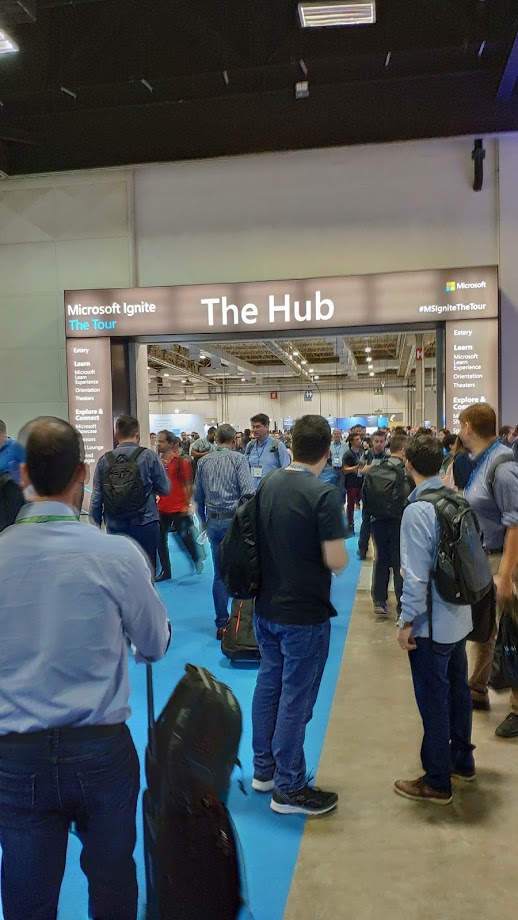 Held in various locations around the world, São Paulo was the 2 on the list of roadmap of, which you can see in the image below: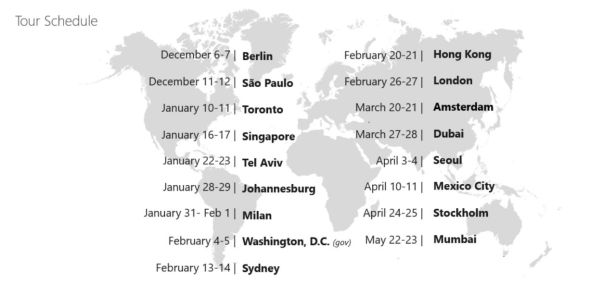 The event was sensational, bringing together nearly 4.000 people at the Transamerica Expo Center, the same Tech Summit venue in 2017. With an impeccable structure and worthy of a Microsoft event, the venue was very large, comfortably accommodating all the people who attended. Even with the event being FREE and open to anyone who wanted to attend, this multitude of techies could have lunch and lunch at the venue for free.

We had several simultaneous technical sessions on various topics, such as SQL Server 2019, Windows Server 2019, IA, Office 365, Azure, Data Security, and more, both in English and Portuguese. All the lectures had a very interesting technical level, some more advanced and some more introductory, to serve all audiences.

In addition to regular, official event sessions, Microsoft has made several Meeting Pods and Demo Stations available so that people can share a project, tool, idea, or solution to others at the event, in a technical, practical, and informal way. I found this idea very interesting because it makes the event even richer and more interactive. That left me, who gave a quick presentation about the Power BI Report Server .. rs

Another banaca space is "The Hub", with specific spaces for various other activities, with sections of the Microsoft Community, Ask the Experts, with Microsoft MVP's and stands of suppliers and sponsors, presenting tools, solutions and promoting gifts.

And there is more .. What about networking? We have to interact with other professionals in our area, to share ideas, experiences and success stories and failures right? This adds a lot to our career and is extremely important! A lot of cool guys found in this event, huh! Many professionals who already followed the social networks and had never had the privilege of meeting in person .. The event was massive!

And to conclude, in the two days following Microsoft Ignite, I participated in the MVP Get Together 2018 event, held at Microsoft headquarters, for interaction between MVP's Brazil, content dissemination and information sharing. Very nice to interact with so many specialists and excellent professionals, from different areas, I learned a lot from these guys.
That's it folks!
Last event from 2018.
2019 promises a lot of cool stuff! Be sure to attend local events in your area!