Reading Time:
5
minutes
Good night!
Alright?
Today I'm going to write this post teaching you how to create a virtual machine (VM) using one of the most popular freeware tools for this: VMware Player.
If you want to know how to create a virtual machine with Oracle VirtualBox, I was comfortable by clicking here and find out.
VMware Player
Download the VMware Player and install on your operating system.

Let's click Create a New Virtual Machine
From this screen we can create our VM of 3 in different ways:

- Installer disc: It will create the VM and install the operating system from the physical media drive of the PC.

- Installer disk image file (iso): You will create the VM and install the operating system contained in an ISO image file on your computer, which you will select by clicking on the "Browse…" button. This is the most common option and the one I will use in this tutorial. Note that when selecting the ISO, VMware will recognize the operating system contained in the ISO in most cases.

- I will install the operating system later: It will create the VM without operating system, which will have to be manually installed later.
In the case of the Windows operating system, the screen appears to set our Product Key (activation key), the version of Windows that we will install and already set the Windows username and password. This is required to have VMWare already install the operating system automatically without the need for human intervention.
Now we will define the name of our Virtual machine and where it will be saved on the HD.
We set the maximum size of the virtual machine hard drive. If you need to increase it in the future, we can do it from the VM configuration screen, and then we have to run some partitioning tool inside the VM operating system, like Paragon Partition Manager. Here we also define whether the physical VM files on your computer (vmdk extension) will be written to one file, or split into multiple files. Creating a single file (option I use) makes using the VM faster and reduces the risk of corrupting your virtual machine, but if you need to copy to another location, this will take more time.
Here we can confirm the installation and settings selected for our VM. If you want to change your VM's hardware, just click on the "Customize Hardware ..." button, which I will demonstrate now (this is optional. If you don't want to change anything, just click on the "Finish" button).
From this screen we can change the amount of RAM available from your VM. The software already comes with the recommended values, recommended maximum and minimum required by the operating system. Remember that RAM is shared between the VM and your physical machine, so I never put more than 50% of your total RAM on the VM. From this screen you can also increase the number of cores on your VM, change the installation ISO, configure the network connection, etc. Honestly, I do not recommend changing these other settings unless you have a problem with them.
Make the necessary changes and click "Close" to return to the previous screen
Click "Finish" to complete the installation.
Our VM is almost ready. As you can see, I'm already using Windows Server 2012, and now all that's left is to configure VMware Tools, which is a VMware toolset to make your virtual machine easier to use. Among the features it gives us, I highlight the ability to auto-zoom the screen whenever you resize the window and the clipboard sync, ie you press Ctrl + C on your VM to copy a text or file and press Ctrl + V on your physical machine to paste what you were copying and vice versa. You can also transfer files between the virtual machine and physics by dragging and dropping files.
Generally, VMware Tools is installed automatically, but if not, just click on the "Manage" menu and then on the "Install VMware Tools" sub-menu.
Energy options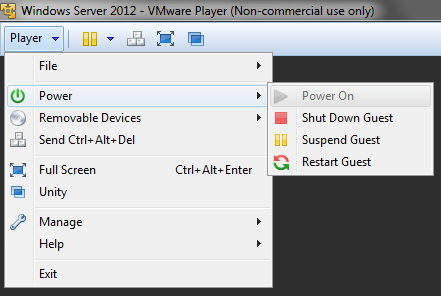 Power On: Serves to turn on your virtual machine when it is turned off. In print it is disabled because the VM is already powered on.
Shut Down Guest: It is for abruptly shutting down the virtual machine by simulating a shutdown using the power button of your case. I do not recommend using this option as it may corrupt your VM as well as damage your physical machine by doing so. Always shut down your VM by the operating system itself.
Suspend Guest: Allows VMware to save the exact situation of your virtual machine (including open programs, everything), save this block of RAM to your hard drive and shut down your VM. When you turn it back on, it will start exactly where you were.
Restart Guest: Forcibly restarts your virtual machine, just as it does in Shut Down Guest, simulating a press of the chassis Reset button. I also do not recommend unless the virtual machine has crashed and Ctrl + Alt + Delete does not resolve.
Removable Devices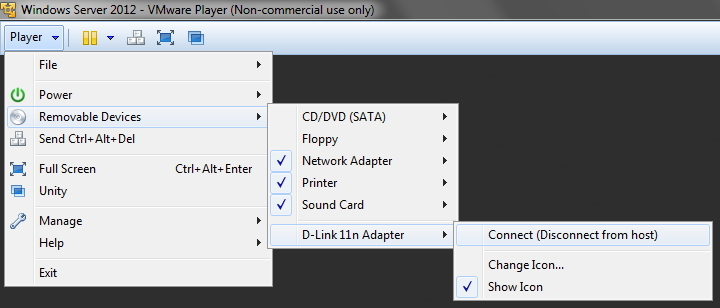 This menu is for you to choose which device will be connected to the virtual machine or physical machine. A USB stick, for example, you can define that it will be available on the VM instead of the physical machine, for example, and you can work with the USB stick files from within the virtual machine.
Unity
Maybe this is one of the best features of VMware Player !!! It allows you to use the programs of your Virtual machine TOGETHER with those of your physical machine, even appearing on your taskbar. This allows you to run Linux and MAC software within your Windows operating system as if it were native and vice versa.
Shared Folders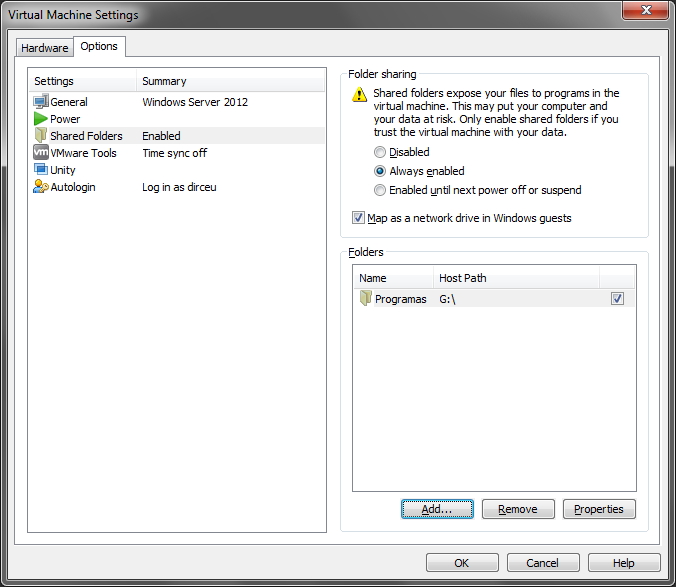 Another very interesting and useful feature of VMware is the ability to create shared folders on your virtual machine with your desktop, whether sharing a folder or an entire partition. After selecting folders and enabling sharing, access to physical machine files through the VM is as follows:
And with that, we ended this tutorial!
Hope it was helpful and see you next time!