Reading Time:
2
minutes
Speak guys!
I would like to share with you how was the experience of performing the Microsoft Certification Data Webinar (Data Platform), an online event that I attended with MVP and MCSE Caio Lover, MCSE Danilo Cardoso, MCSE Maruan Aawar and MCSE Meirieli Ribeiro.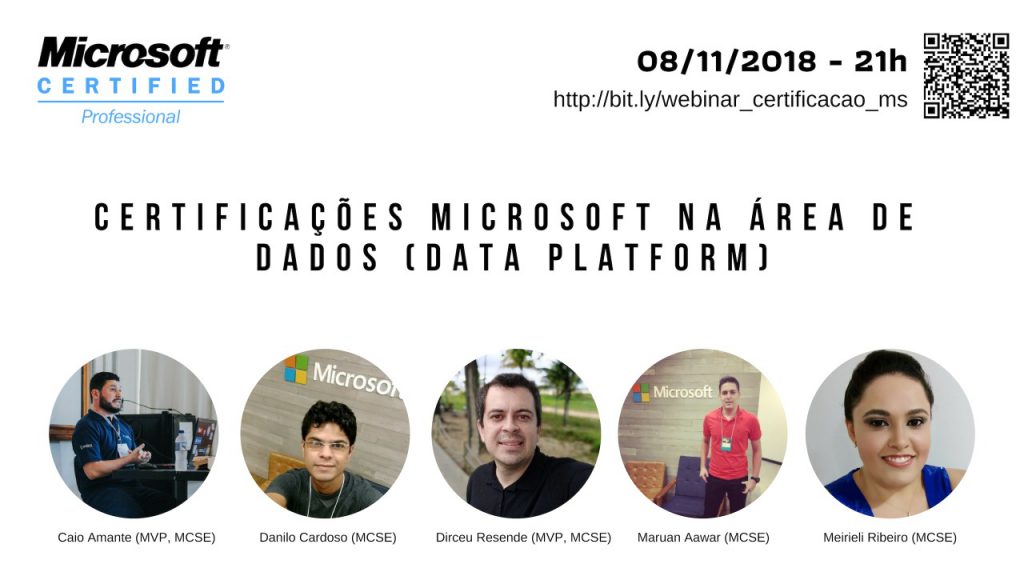 It was really a really cool experience to be able to share some of my certification exam experience with so many people (we had more than 100 people accompanying us live), ask questions and learn more from each other.
We talked about the importance of the impact of certification on the market and on the company itself, showing our vision of how the market sees certification compared to a degree and even a postgraduate degree in the area, some reasons why it is worth investing in Microsoft certifications rather than other market players, we commented on the MTA test, a very initial test for those entering the area, as well as the MCSA and MCSE tests, as well as the entire data area track (Data Platform).
Speaking more specifically for the tests, we commented on how the test models are, average number of questions and time, how long it takes for the result to become available, and we also compared the differences between official and beta tests, and also about tests in Portuguese and tests in English, not forgetting to talk about the 50% discount students have to take Microsoft certification exam, where to take the test (comparative to do online, at home, and do at the training center), benefits of being an MCP, and lastly, don't forget to comment on the lousy example that a few IT pros go by using Dumps evidence and how the market repudiates such a dishonest practice.
Watch the webinar if you couldn't watch it live:
Material we use in the Webinar, created by Maruan Aawar and Danilo Cardoso:

Here are some links that can help you in your studies for certification exams:
That's it folks!
A big hug and see you next time!