Reading Time:
2
minutes
Hey guys!
All quiet?
On 16 / 06, I had the pleasure of attending the 8 PASS Local Group SQL Server ES Tiago Neveswhere we had the presence of MVP Igor Santos and Daniel Braga as speakers.
Igor is DevSQL Local Group Leader in Rio de Janeiro, SQL Saturday speaker in Brazil, currently works as a consultant at Dataside and Braspag and Daniel is a System Development Specialist and speaker at events such as iMasters InterCon, Zero to Hero and others. .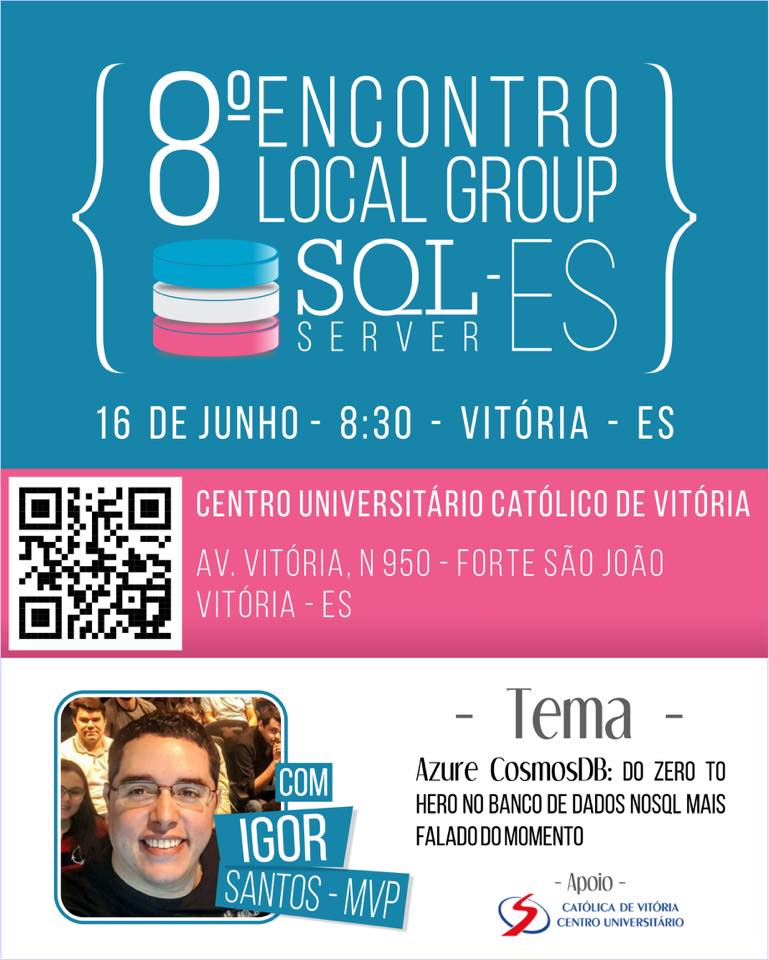 As always, the structure of the Catholic University Center of Victoria it was amazing, serving and accommodating us in a very comfortable and organized way.
We also had support from Fabrício Lima - Database solutions, a Microsoft database consulting firm, which supported the event by donating Coffee Break to attendees and also promoting the event on social networks.
The lectures
Enjoying the goodwill of the speakers MVP Igor Santos and Daniel Braga, who left Rio de Janeiro to come to Vitória-ES to honor us with their vast knowledge about the Microsoft data platform, it was possible to extract a lot of knowledge about the concepts of NoSQL, differences between relational database x NoSQL and of course about Azure CosmosDB, Microsoft's NoSQL database. Event attendees were able to learn more about what Microsoft has made available about CosmosDB, its architecture, advantages and disadvantages, great and bad scenarios for its application, real examples of how this tool works, and more.
To download the lectures and view the official website of this event, visit this link.
Event Photo Gallery
This slideshow requires JavaScript.
I would like to thank everyone who was able to attend the event again. I hope it was profitable and a time investment, rather than a waste of time. Waking up early on Saturday after working / studying all week is really not easy. This only shows the interest in learning more and evolving professionally. Who hasn't, missed the coffe break, networking and the excellent lectures of Igor and Daniel.
If you want to be part of these groups, meet us and start interacting with the community, access this post here and choose the communication channel of your choice.
That's it, guys.
Soon I will be posting more news for you here.
A big hug and until the next post.