Reading Time:
2
minutes
Guys,
All beauty with you?
The 8th Meeting of the Local Group SQL Server ES is coming and is a must see! This time we will have as speaker the Igor Santos - MVP, directly from Rio de Janeiro, bringing a very cool lecture for those who would not have the opportunity to travel to RJ or SP. Igor is DevSQL Local Group Leader in Rio de Janeiro, SQL Saturday speaker in Brazil, currently works as a consultant at Dataside and Braspag.
This is an excellent opportunity to learn more about the Cosmos and a comparison between NoSQL and relational with one of the greatest specialists in this technology in Brazil. You have no idea what CosmosDB is? One more reason to go! A competitor for your job opening may already know and be in front of you ...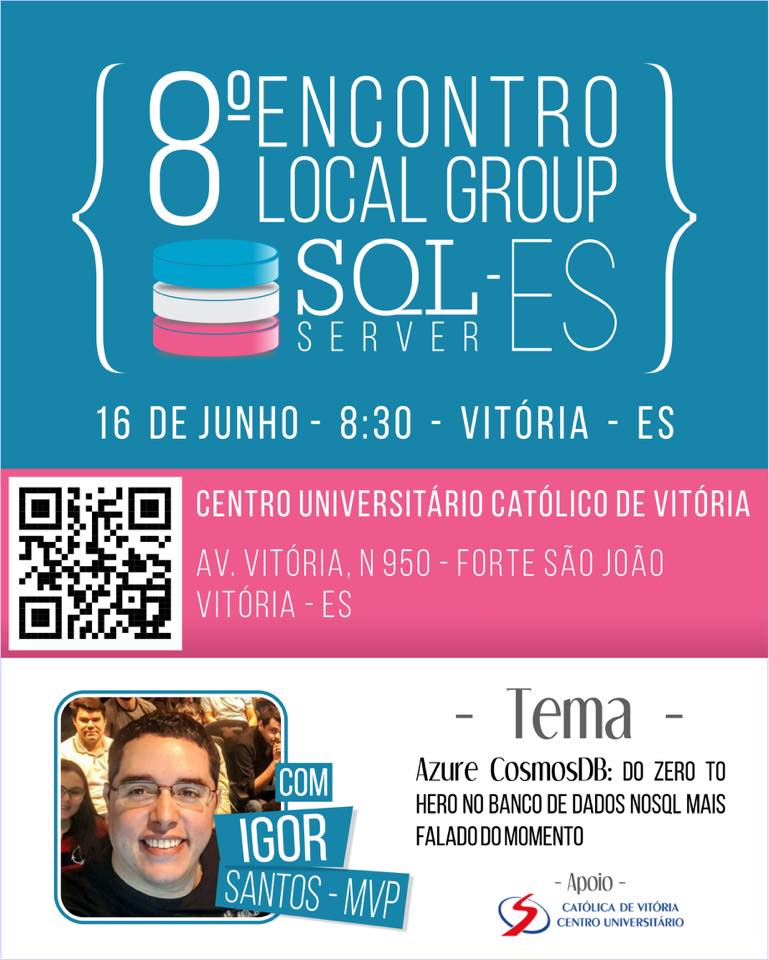 The lecture
Igor will hold a mini workshop to introduce Azure Cosmos DB, Microsoft's NoSQL solution as a distributed multi-model database service that was released on 2017 on Azure. We go from the basics of nonrelational databases to presenting a real-time sentiment analysis solution using only cloud services.
Event Details
Order date: 16/06/2018 (Saturday)
Open Hours: 08:00AM at 11:30PM
Venue: Catholic University Center of Vitoria - Former Salesian Catholic College (link here)
Address: Victoria Avenue, 950, Fort St. John, Victoria, ES (view location)
The Salesian College, through Prof. Marcelo Albuquerque, embraced the community giving us full support. Remember that this event is open to the entire technical and academic community of Espírito Santo.
It will be an event with lots of content, networking and learning for everyone.
Make your registration Delivery to Italy takes one or two business days clicking this link here.
See you there !!!