Reading Time:
2
minutes
Guys,
All beauty with you?
Once again, we are preparing and organizing the 5th Meeting of the Local Group SQL Server ES. This time we will have as speakers the Fabricio Lima - MVP and the Vithor Silva - MCSE and we will be back at the Catholic University Center of Victoria.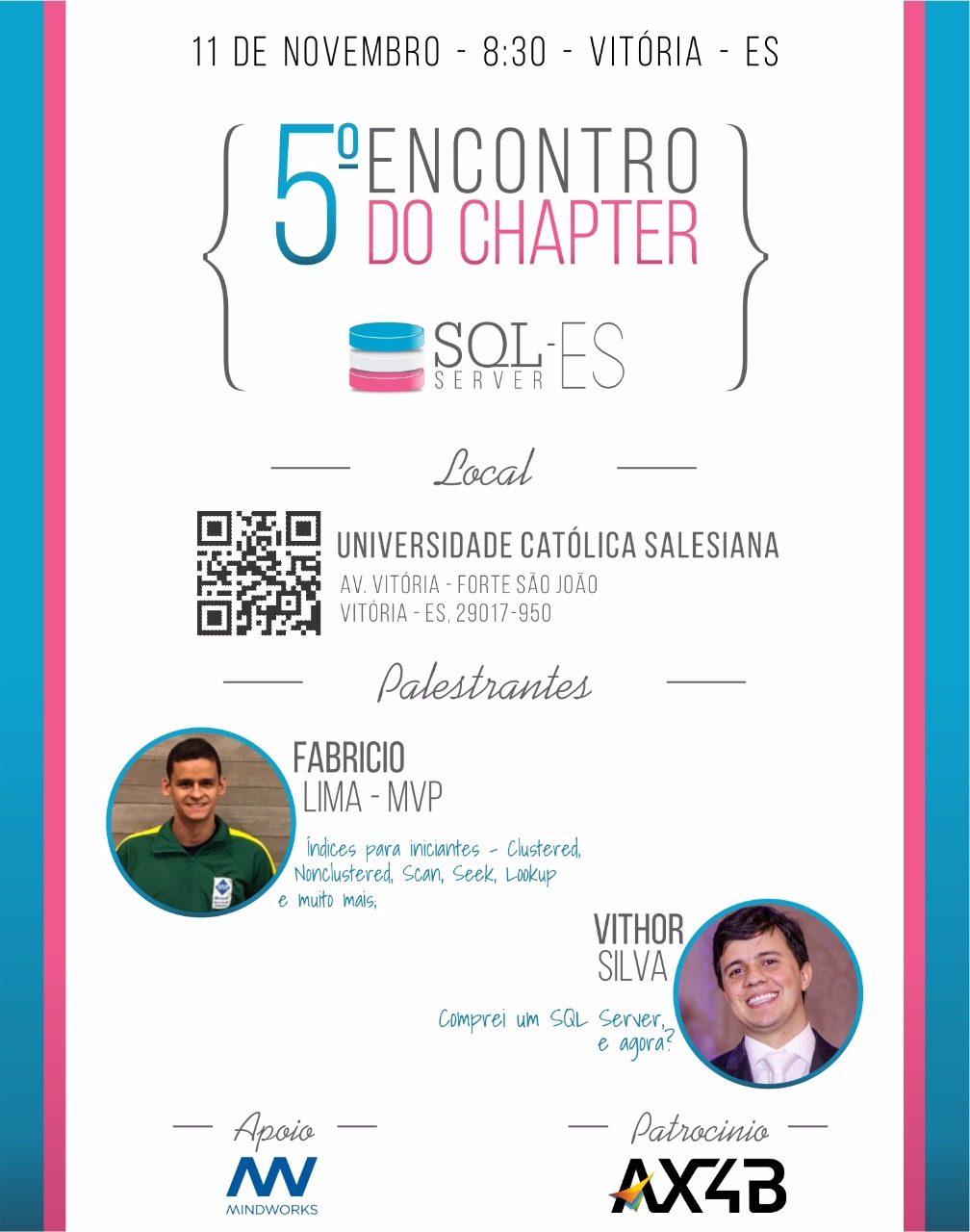 The lectures
If you are a Developer, work with BI, are DBA or even an Infra guy who has to do queries on a SQL Server, the lecture "Indices for Beginners - Clustered, Nonclustered, Scan, Seek, Lookup and Much More" by Fabricio Lima - MVP It is mandatory for you. Every professional who queries a SQL Server has to understand how an index works and how it does the magic of making a query much faster.
We will also have the lecture "I bought a SQL Server and now?", From Vithor Silva - MCSE, on a very interesting subject. It will cover several features that when purchasing SQL Server are available to businesses and often people do not know and / or do not use, such as Master Data Services and Data Quality Services, Integration Services, etc. A very competitive differential compared to competitors, especially Oracle.
Event Details
Order date: 11/11/2017 (Saturday)
Open Hours: 08:00AM at 11:30PM
Venue: Catholic University Center of Vitoria - Former Salesian Catholic College (link here)
Address: Victoria Avenue, 950, Fort St. John, Victoria, ES (view location)
The Salesian College, through Prof. Marcelo Albuquerque, embraced the community giving us full support. Remember that this event is open to the entire technical and academic community of Espírito Santo.
It will be an event with a lot of content, networking and learning for all, with the support of Mindworks and the sponsorship of AX4B.
Make your registration Delivery to Italy takes one or two business days clicking this link here.
See you there !!!