Reading Time:
2
minutes
Hello everybody!
All right with you ?
Once again, we are preparing and organizing the 3 Chapter SQL Server ES Meeting, which will be held on 26 August 2017. The community is being formed with the goal of becoming a Chapter of Pass in Victoria. With this, we will be able to organize large events such as SQL Saturday, for example, as already occur in several other cities around Brazil and the world.
The previous two meetings were a great success, we had a lot of positive feedback from the event attendees, and I would like to invite you all to attend the 3 SQL Server ES community meeting! It will be a very cool event, organized with great dedication and we will have as speakers the Alexandre Paiva, with the lecture "SQL Server - Security overview" and the MVP Fernando García, one of the creators of the Youtube channel Spreadsheets, presenting the lecture "Azure Cognitive Services and PowerBI".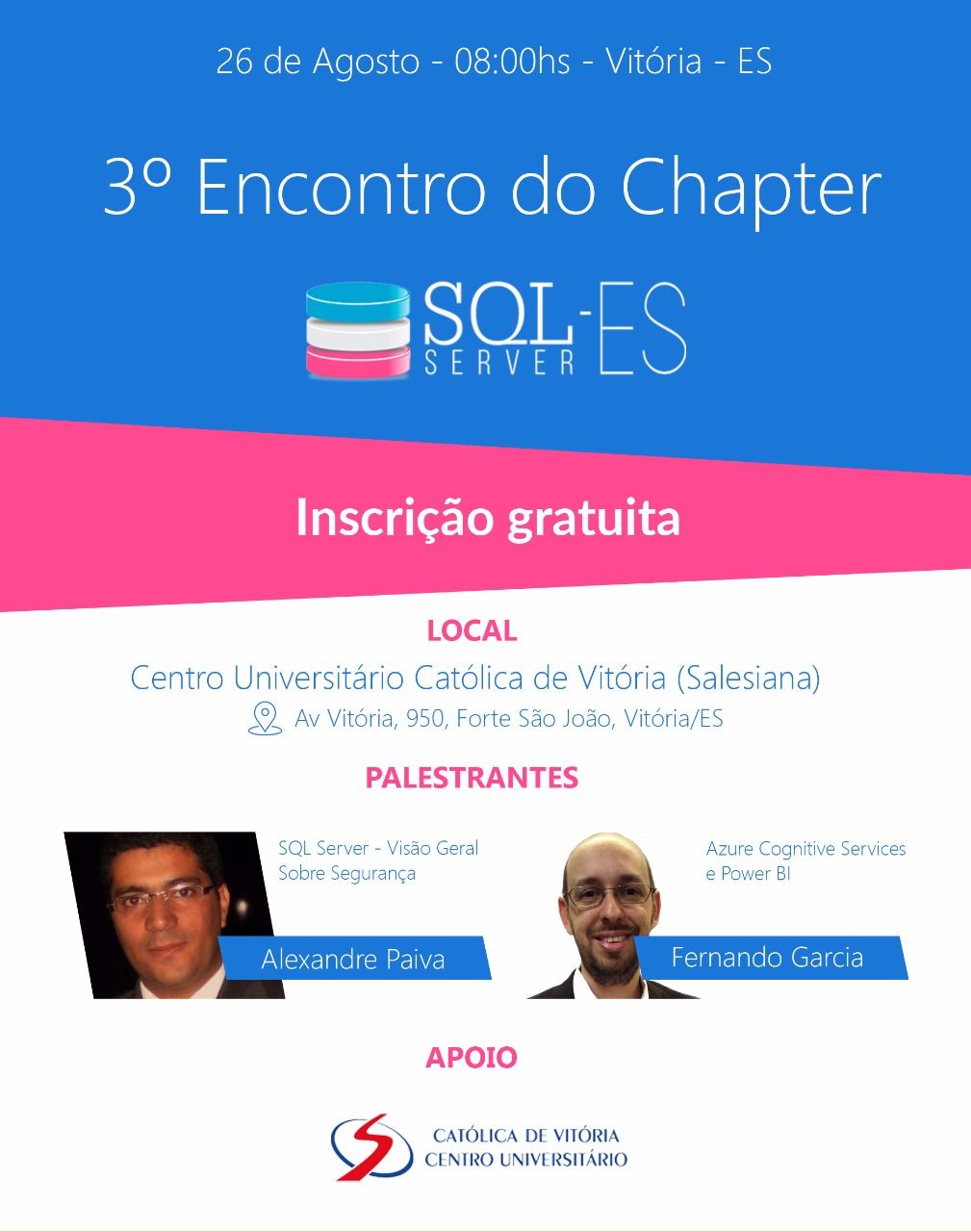 It will be an event with lots of content, networking and learning for everyone.
Below, more details about the event:
Date: 26/08/2017 (Saturday - no excuse for missing)
Time: 08: 00h at 11: 30h
Venue: Catholic University Center of Vitoria - Former Salesian Catholic College (link here)
Address: Victoria Avenue, 950, Fort St. John, Victoria, ES (view location)
The Salesian College, through Prof. Marcelo Albuquerque, embraced the community giving us full support. Remember that this event is open to the entire technical and academic community of Espírito Santo.
Make your registration Delivery to Italy takes one or two business days clicking this link here.
We count on your presence there!
Hug.