Reading Time:
3
minutes
Hello people,
Good night!
All right with you?
In this commemorative post, I would like to thank you immensely, who follow my posts, comment, share, enjoy .. It was thanks to you that I managed to reach the number of 100 MIL VIEWS (considering only the home and the posts).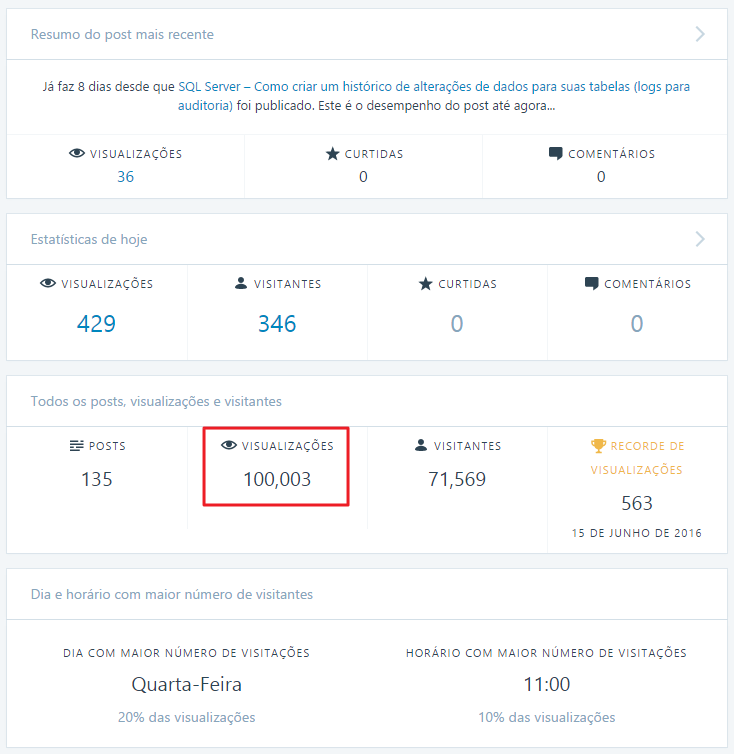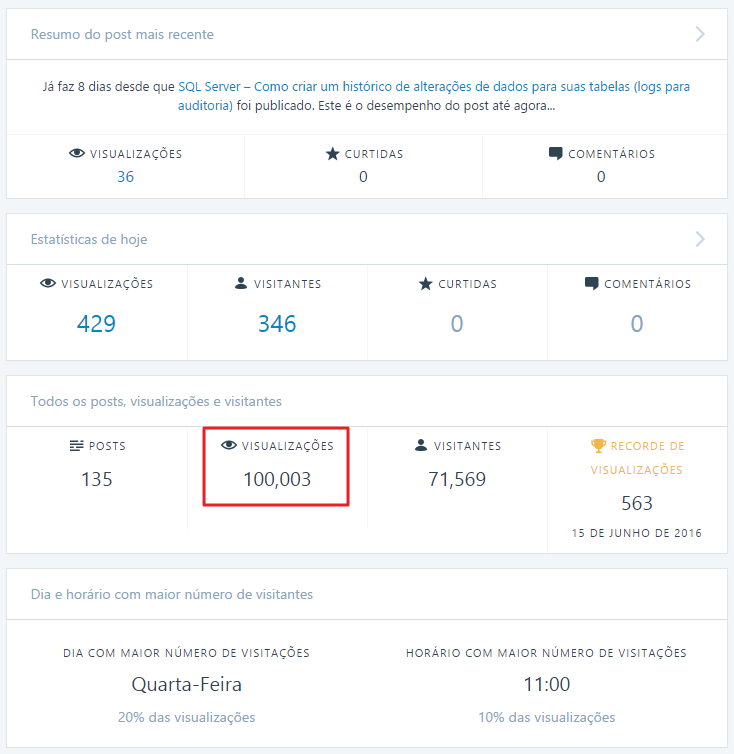 It may not seem like big things, but getting to that number with an IT tech blog, talking pretty much about database and a bit of development, without any advertising or paying for Adwords is pretty hard.
I started writing here on 05 / 06 / 2014, just over 2 years ago, where I made several posts about PHP and Oracle. After that, I was 5 months without posting anything and in November of 2014 I wrote again, which was when I started to dedicate myself to the blog, and the number of visits was growing gradually each month 🙂
A lot of people ask me why I "waste time" writing on the blog, since "I don't gain anything from it". The answer to that is this:
For each post I make, I usually invest between 30 mins and 1h studying more about the subject and specializing in what I'm going to write, and usually about 2h (there was a post that took a lot longer than that ... lol) between content creation , tests (yes, I test each command and each query that I post here), organization of the information and "perfumeries" to make the posts pleasant to view. With all this effort, I keep myself updated and studying, always motivated to learn more and more.
I often read and learn about something interesting on other blogs and I don't think it was well explained, because I had to read from several other sites to fully understand a feature or technology, so that's when I see an opportunity to write about something cool and that maybe it could have a more didactic content for those who would like to learn as well.
Teaching and teaching has always been a passion for me. It's very rewarding when you help someone get started in your career and then follow your growth and evolution by witnessing the birth of a great professional.
We must put individuality aside and live a philosophy of community and information sharing. Nowadays I can clearly see that about 80% of all the technical knowledge I have acquired throughout my career has been through forums, Stackoverflow, Blogs, etc. And that's exactly why IT has evolved over the last 15 years what other areas usually take 100, 200, 1.000 years to reach. The IT professional's profile is people who like to share knowledge, post innovative solutions to common problems, seek process improvements, try to create new ways to achieve a goal, innovate, create, improve. This is only possible because there are people who have this thought of sharing information.
I remember like it was yesterday, when I started programming in mIRC with 12 years old, in 1999, and creating my own script (the older ones will understand .. rs), where you could create screens and various features using similar language with C ++ (https://en.wikipedia.org/wiki/MIRC_scripting_language). At 15 I was already creating several applications in Visual Basic 6 and Delphi 7 for managing Windows settings, Multimedia Player (later I post about it .. lol) and several others. This was only possible because there were several people on the Internet teaching how to program.
In addition to all this, I ended up "professionalizing" on the WordPress platform, acquiring a lot of knowledge of best practices, editing themes and plugins, and since then I managed to work on some Web Development jobs using this platform, which greatly speeded up the delivery of these projects. , the customers were very satisfied and this experience is being very nice 🙂
So guys, this post was another thank you, in which I got excited and ended up telling a little about how my passion for programming started. My tip for you is to create courage, make your blog or LinkedIn posts to share your professional experiences, innovative things that you know how to do. IT needs this to keep evolving.
If you are not in the habit of sharing knowledge, get out of inertia and start writing now. You will see how fulfilled you will be and how much you will learn. Believe me: You will feel great when you read a comment from someone saying that you have been able to solve a problem thanks to your post.
Thanks again for your visit.
Hug and until the next post!